World AM News Briefs For Monday, 11 September 2017
Good Morning Australia!! - Hurricane Irma is flooding vast swathes of Florida - The storm that already ravaged the eastern Caribbean caused much more damage than expected in Cuba - Officials weigh a global response to North Korea's nuclear program - And more in your CareerSpot Global News Briefs:
Hurricane Irma hit Florida on its southwestern tip as a Category Three Cyclone and is slowly moving up the peninsula towards the heavily populated Tampa-Saint Petersburg metro area. Cities like Naples, Marco Island, and Fort Meyers are taking wind damage and storm surge flooding as the storm lingers, pulling warm water out of the Atlantic Ocean more than a hundred miles away and dumps it across the south state. As the eye passed over, the water level in Naples reached one foot above flood stage - and the rest of the hurricane is going to push it up more than two more meters. The state has already logged at least one storm-related death.
Miami escaped a direct hit, but the storm surge flooded parts of the city and Miami Beach - which probably should have been evacuated ten years ago - and wind ripped up at least two of more than two dozen construction cranes that companies left standing as the storm approached.


Household roofs were no match Irma, either. Store owners in Miami watched in horror from the inside as their water-tight shop was surrounded by the storm surge. Boat owners who did bring their vessels in from the water better have had paid their insurance, because the waves pretty much took care of those things.
There is widespread devastation in Cuba, where Hurricane Irma lasted much longer than earlier forecasts had warned - more than 24 hours. Flooding in Havana reached more than 300 meters inland, and officials warned residents that it will remain flooded for more than 36 hours.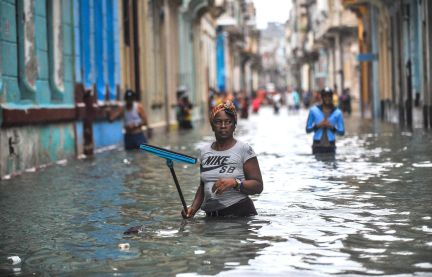 Earlier in Caibarien, a small coastal city about 320 kilometers east of Havana, Hurricane Irma downed power lines, toppled poles and trees, and tore roofs off before leaving under water.


Cuba prides itself on its disaster preparations and says a million people were evacuated before the storm's arrival. But the damage is intense and Civil Defense official Gregorio Torres said authorities were trying to tally the extent of the damage in the largely agrarian eastern part of the island. And a death toll will take a few days to tally.
Back in Hurricane Irma's wake, French officials are defending their handling of hurricane preparations in the country's Caribbean territories. The opposition says the government didn't do enough and residents of Saint Bart's and Saint Martin say they are languishing without assistance restoring fresh water, sanitation, and food deliveries. Government spokesman Christophe Castaner said he "perfectly (understood) the anger" of residents who were suffering from "an impact of emotional shock, an impact that's extremely hard psychologically".
Overall, the death toll from Hurricane Irma is about 36 lives lost.
In Myanmar, the government says it will not accept a cease-fire from Rohingya militants, which announced Sunday it was laying down its weapons. Myanmar government spokesman Zaw Htay said the country would not negotiate with "terrorists". The UN and Human Rights groups fear Myanmar troops and nationalist mobs have carried out atrocities against the Rohingya in western Rakhine state, and about 300,000 of the persecuted minority have fled to refugee camps across the border in Bangladesh.
NATO general secretary Jens Stoltenberg believes North Korea's nuclear program "is a global threat and requires a global response". he saysthe Western military alliance is "totally focused on how can we contribute to a peaceful solution of the conflict and press North Korea to stop its nuclear missile program". Pyongyang has done a lot of sabre-rattling at US bases in Guam, but Stoltenberg wouldn't say if a North Korean attack would trigger Article Five of the NATO charter, which says all members must rise in defense when one is attacked.
Former Georgian president Mikheil Saakashvili and one-time regional governor in Ukraine says supporters "swept us up and carried us into Ukraine", over the objection of border guards. Saakashvili is technically stateless - he was president of his native Georgia in the Caucuses, but the country pulled his citizenship after he went to work as governor of Odessa, Ukraine. But he lost his Ukrainian passport after row with his former friend President Petro Poroshenko.
Uruguayan Vice President Raul Sendic has resigned after criticism of the spending of public funds. He denies allegations of using public funds for persona gain.
Pope Francis is touring Cartagena, Colombia with a black eye. He banged his head on his popemobile when it made a sudden stop amid swarms of well-wishers, causing the Pontiff to lose his balance. Pope Frank didn't miss a beat, however, as his staff quickly closed the cut with a butterfly banage and he kept on Poping.