World News Briefs For Saturday, 12 August 2017
Hello Australia!! - More schlong waving from two morons with bad haircuts and access to nuclear weapons - A hitch in the London jogger arrest - Google cancels a company meeting on that sexist memo - And more in your CareerSpot Global News Briefs:
The two morons continued to lob verbal taunts at each other: Donald Trump tweeted that "military solutions are now fully in place, locked and loaded" if the regime of Kim Jong Un should "act unwisely". North Korea responded in a state-run newspaper that "US military warmongers are running amok" and warned that the "the US and its vassal forces will dearly pay for the harshest sanctions and pressure and reckless military provocations". And late Friday afternoon, the orange clown said if Kim Jong-un tries anything, "he will regret it and he will regret it fast". The escalating rhetoric began earlier this week when the Washington Post reported on a US Defense Intelligence Agency assessment that North Korea has learned to miniaturize a nuclear weapon to place on an ICBM - an opinion not necessarily shared by all US intelligence agencies.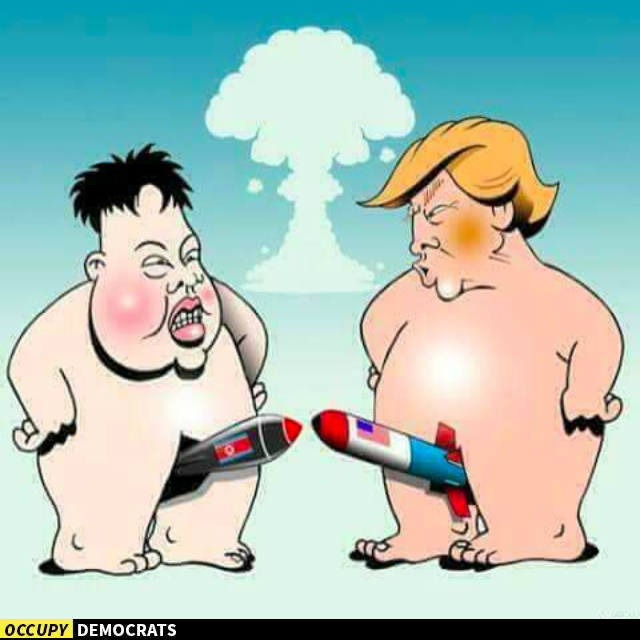 Other countries are weighing in on the ridiculousness between the the White House and Pyongyang. Russian Foreign Minister Sergei Lavrov said the Kremlin does not want a nuclear-armed North Korea, but says the US needs to back down first. The leader of the free world, German Chancellor Angela Merkel, told reporters that she didn't "see a military solution" to the stand-off. "I see the need for enduring work at the UN Security Council," Merkel said, "As well as tight cooperation between the countries involved, especially the US and China. An editorial in China's state-run and hawkish Global Times said Beijing should stay neutral if North Korea attacks the US, but defend North Korea if the US attacks first. Officially, Beijing and Moscow are working to calm the situation.
The American banker arrested for allegedly pushing a woman down as he jogged in London says he has "irrefutable proof" he wasn't even in the country during the incident in May. Police released video of the altercation this week after failing to find a suspect, simultaneously praising the bus driver who swerved to avoid hitting the woman. 41-year old Eric Bellquist is free on bail, says he's been "wrongly implicated" by cops, and can prove he was in the United States at the time.
Google has cancelled an urgent "all-staff" meeting over the horrible, sexist memo written by a white male engineer claiming that women can't be leaders or techies because of "biological differences". That attention-seeking twit who wittingly or unwittingly demoralized thousands of Google staffers was properly sacked. But some staff signalled they didn't want to be singled out later on if they spoke out at the meeting. Google is working on correcting its diversity problem; 80 percent of its tech workforce and 75 percent of its leaders are men.
At least 36 people are dead in a train collision in Alexandria, Egypt. More than 120 people were injured putting a massive burden on hospitals in the region.
French police arrested a shop owner on Corsica for allegedly shooting nude sunbathers on a beach. At least one woman was injured. Carataggio beach near Porto-Vecchio is popular with nudists, although it isn't officially a nude beach and some locals are upset over all of those naughty bits.
Kenyan President Uhuru Kenyatta was relected in this week's election. The opposition claims Kenyatta's 54.3 percent majority was rigged and is illegitimate, but international observors have confirmed the vote was one the up and up.