World AM News Briefs For Friday, 11 October 2019
Hello Australia!! - US authorities arrest two men in Trump's arms-for-gossip scheme with Ukraine - Back to jail for Malka Leifer, but no extradition just yet - The country where the protesters detained the cops - And more in your CareerSpot Global News Briefs:
Israel's Supreme Court has ruled that fugitive Melbourne educator Malka Leifer will stay behind bars and not be released to house arrest at her sister's home while she fights extradition back to Australia. Prosecutors say she is feigning mental illness to avoid being sent back to face 74 charges of abusing students while she was principal at the ultra-orthodox Adass Israel school. She fled to Israel in 2008 after the allegations first emerged, and seemed to have successfully stalled extradition since charged were filed in 2013.
Turkey claims it has killed "109 militants" in northeastern Syria, where it invaded this week after Donald Trump announced he was pulling US troops out of the area that is controlled by the Kurds - whom Turkey considers to be terrorists but who have also been instrumental in the West's efforts to box in the so-called Islamic State. It is clear that the death toll is mount, and 60,000 civilians are on the run - but there is nowhere for them to go. The Kurds also accused Turkey of bombing a prison to allow IS fighters to escape. US Republicans have blasted Donald Trump for this decision that seems mostly to benefit Turkey and Russia, but that doesn't seem to have changed his mind, go figure.
The international community is pretty much opposed to Turkey's actions. Norway has suspended arms sales to Turkey. France has summoned the Turkish ambassador to explain his country's intentions. "I strongly condemn the unilateral military offensive in Syria and I call on Turkey to end it as quickly as possible," said French President Emmanuel Macron, "This risks helping (IS) rebuild its caliphate, and this is a responsibility that Turkey will hold." India's Ministry of External Affairs said "Turkey's actions can undermine stability in the region and the fight against terrorism."
Two Ukrainian associates of Donald Trump's personal attorney Rudy Giuliani have been arrested at a US airport trying to leave the country. Prosecutors say Lev Parnas and Igor Fruman - both US citizens but born in Ukraine and Belarus, respectively - were allegedly scheming to illegally finance US political campaigns with foreign money funneled to US fronts. They were also key players in Giuliani's campaign to attempt to dig up dirt on former vice president Joe Biden, Trump's Democratic rival, gossip which Trump appeared to demand from Ukraine before he was fulfill a pre-approved arms deal. Parnas and Fruman had reportedly met with Giuliani in the hours before before their scheduled flight for which they possessed one-way tickets out of Dodge. Trump claims he doesn't know the men, which means OF COURSE he is shown posing with them in a photo taken within the last few weeks.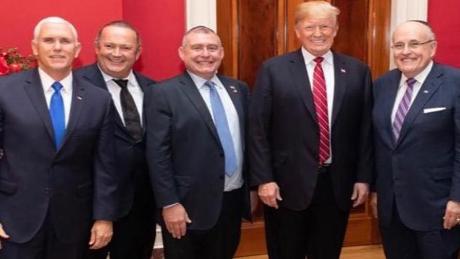 Yeah, that's them.
Ecuadoran protesters paraded several captive police officers before reporters (who also weren't allowed to leave) at a cultural center in the capital Quito. The officers did not appear to be hurt, but it shows the seriousness of the situation in the South American country. Ecuador has been rocked by protests since the government of very unpopular president Lenin Moreno unveiled a bunch of austerity measures demanded by the IMF in exchange for a loan - the most objectionable being the end of fuel subsidies on which low income Ecuadorans depend.
With only two and a half weeks left until the Brexit, Irish Taoiseach Leo Varadkar and UK Prime Minister Boris Johnson announced they could see a "pathway" to reaching a deal on the UK's divorce from the European Union. The two held last-ditch talks at Johnson's country house in the northwest of England, but remained cautious because of the myriad of issues that must be dealt with to avoid economic chaos. "I am now absolutely convinced that both Ireland and the UK want there to be an agreement that's in the interests of Ireland and the UK, and the EU as a whole," said Varadkar.
Germany's Justice Minister Christine Lambrecht is confirming that the shooting outside a synagogue in the eastern city of Halle was indeed a far-right attack. The neo-nazi scum gunman Stephan Balliet faces two counts of murder and nine counts of attempted murder. The country's largest Jewish organization blasted police for "negligence" for not being positioned to prevent the attack on Yom Kippur during a time of increased far-right activity. "If police had been stationed outside the synagogue, then this man could have been disarmed before he could attack the others," said Josef Schuster, head of the Central Council of Jews.