World AM News Briefs For Friday, 12 January 2018
Good Morning Australia!! - Europe implores Trump not to screw up a good thing - Assange is an Ecuadoran now - Shadows of nazism creep up in Austria - The Tattooed Life betrays an old gangster - And more in your CareerSpot Global News Briefs:
Ecuador probably didn't do itself any favors by granting citizenship to Julian Assange, who has been holed up in the South America country's embassy in London for five and a half years, to avoid feared extradition to the US. It comes hours after the UK refused a request by Ecuador to grant Julian diplomatic immunity so he could leave the embassy; Assange himself signaled that something was up when he tweeted a photo of himself wearing an Ecuadoran football shirt on Wednesday. The move was unexpected because current Ecuadoran President Lenin Moreno never expressed a high opinion of Assange, referring to him as a "hacker" and cautioning him not to meddle in Ecuadoran politics.
Australian actress Jessica Falkholt remains in a critical condition after her life support was switched off on Thursday. Despite the hospital's best efforts, she has remained in a coma since the horror crash on Boxing Day in New South Wales in which her family was killed. Jessica appeared as Hope Morrison on the show Home and Away. Producers confirm her scenes will remain in the upcoming movie "Harmony", which was to be her big debut.
US Treasury Secretary Steve Mnuchin expects the orange clown Donald Trump to impose new sanctions on Iran; Trump faces a Friday deadline on whether to waive other major sanctions on Iran lifted under the 2015 multi-party deal that convinced Tehran to drastically scale back its nuclear program. Even though the clown frequently accuses Iran of failing to live up to the terms of the agreement - often citing developments that fall outside of the scope of the Joint Comprehensive Plan of Action (JCPOA) - EU and British officials are urging him not to pull the US out. "The deal is working - it is delivering on its main goal, which means keeping the Iranian nuclear program in check and under close surveillance," EU foreign policy chief Federica Mogherini said. "I don't think that anybody has produced a better alternative to the JCPOA as a way of preventing the Iranians from going ahead with the acquisition of a military nuclear capability," said UK Foreign Minister Boris Johnson.
How about some more Trump Administration dishonesty and incompetence?
The new US Ambassador to the Netherlands Pete Hoekstra made a complete ass out of himself and the country he represents again. Dutch reporters gathered at the Ambassador's residence in The Hague and peppered him with questions about his past statement claiming radical Islamists were "burning politicians" in the country - a demonstrable fallacy for some reason believed by US racists and conservatives. Hoekstra, apparently accustomed to the fawning of inexperienced recent-college graduate cub reporters back in his home state of Michigan, stood there dumbfounded and refused to answer. It didn't go well.
Then one of the reporters pointed to a painting of US "founding father" John Adams, who was the first US Ambassador to the Netherlands, and asked about Adams' quote wishing that only "honest and wise men ever rule under this roof". Hoekstra acknowledged the quote. To which the report replied, "If you're truly an honest and wise man, could you please take back the remark about burned politicians or name the politician that was burned in the Netherlands?" Again, Hoekstra stood there in silence, waiting a moment to say "thank you" to the reporter and refusing to answer.
You'll recall that last month, Hoekstra was interviewed by a reporter who quizzed him about the comment about Islamists "burning" Dutch politicians, which never happened. Hoekstra at the time lied and said he never made such a slanderous statement, and the reporter held up his iPhone to replay video of the simultaneously befuddled and racist American disgracefully saying those exact words at a conservative fundraising dinner a couple of years earlier. Hoekstra then lied again, claiming he didn't deny saying it - something he did just a few seconds earlier, caught on camera. He lied about lying about telling a lie.
Moving along..
Austria has had its far right coalition government for less than a month and already it has started with the nazi talk. Reporters and the opposition were outraged when Interior Minister Herbert Kickl said he wanted to "concentrate" asylum seekers into "services centers" to keep them in "one place". In other words, concentration camps. Politicians accused him to trying to inject the language of nazism into public debate. Kickl's Austrian Freedom Party (FPO) then denied using deliberately provocative language, although it perfectly fits the pattern of the far right dancing right up to the line of fascism and then issuing a half-arsed denial.
Another 300 people have been arrested in Tunisia as cops tried to crack down on anti-austerity protests with tear gas and hoses. The protests have mainly focused on a hike in the Value Added Tax - "Prices of medicine have increased. Everything has, and salaries have not," said one protester to the BBC, "I don't think this is the right time for price hikes."
Israeli troops killed two Palestinian boys in separate clashes with demonstrators. Both were 16-years old: Amir Abu Musaid was shot near Gaza's border fence, while Omar Qadous was gunned down between the villages of Iraq Burin and Til, in the northern West Bank. Neither clash was near the site where Israel was investigating the gruesome murder of a Rabbi and father of six children who was gunned-down assassination style near a settlement. All of this comes amid accusations of overkill regarding Israel's decision to try a 16-year old girl who was seen on video slapping an IDF trooper.
An old Yakuza's pride was what gave him away. Police in a rural village in Thailand arrested 75-year old Shigeharu Shirai, after pictures of his elaborate Yakuza tattoos went viral on social media. Police near Osaka, Japan recognized the man in the photos as a gangster with the Kodo-Kai gang in Kobe who had fled the country almost 15 years ago to escape murder charges. Thai cops picked him up on Japan's request.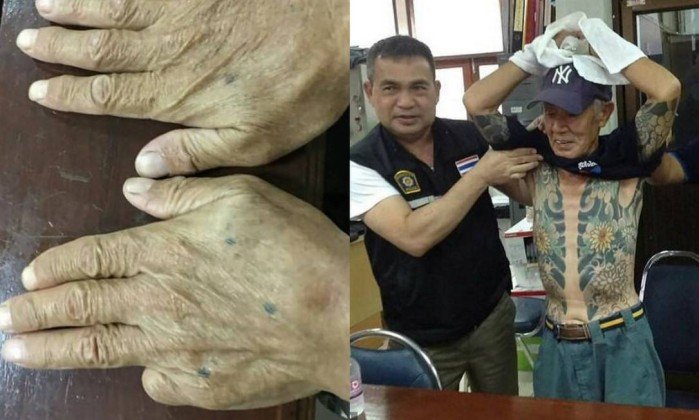 Ol' Shigeharu was supposed to be keeping a low profile in Thailand with his new wife, not calling attention to himself by strutting around shirtless and failing to cover up his chopped pinky finger - something Yakuzas do to themselves to show attrition for a failure. Like, you know, getting caught.