World AM News Briefs For Friday, 15 June 2018
Good Morning Australia!! - Trump salutes the enemy - Australia's fears about Trump's incompetence are slowly becoming public - A smartphone gadget that will save many, many lives - And more in your CareerSpot Global News Briefs:
North Korean state-run media has been running a video clip practically on continuous loop, showing the orange clown Donald Trump actually saluting a North Korean military general during the summit with Kim Jong-un. A US leader showing this form of respect for a North Korean official is just the kind of propaganda coup that Pyongyang had been hoping for, and the clown gave it to them.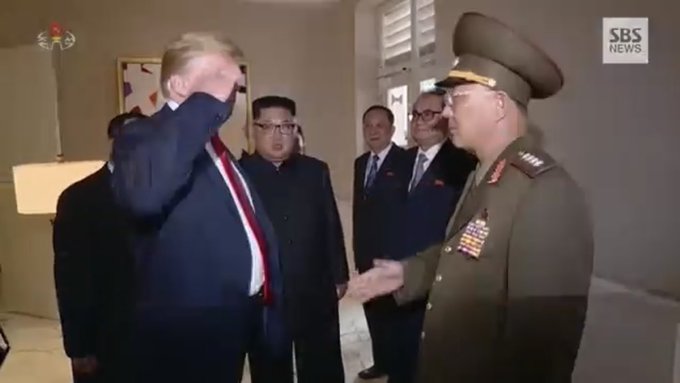 Retired Major General Paul Eaton called Trump's salute "wholly inappropriate" and that Pyongyang uses its military to maintain "a regime of terror, murder, and unspeakable horror against its own people". The White House claims this flagrant insult to every US and allied military member who had America's back in Korea was merely "returning a courtesy". But it is just another in a string of concessions that Trump handed to North Korea in exchange for a weak, vague statement that maybe one day Pyongyang would end its nuclear program.
America's allies have grown increasingly frustrated with Trump's antics, but outside of Europe it's rare to actually hear it. Aussie Foreign Minister Julie Bishop didn't quite rip Trump, but she stepped towards it. "The US trade representative said there was a special place in hell for Justin Trudeau, while President Trump said he had a special bond with Kim Jong-un, aka Little Rocket Man," Ms. Bishop said at the Australian British Chamber of Commerce on Thursday night. She's also worried that Trump is giving up too much to his new buddy Kim Jong-un: "I wouldn't be taking my foot off the throat of North Korea until I saw very concrete steps that this time," she advised Trump from afar, urging him not to end econmic sanctions or military exercises ("war games") with South Korea.
New York state's Attorney General is suing the Trump Foundation, as well as Donald Trump and his children Eric, Donald Jr., and Ivanka for alleged "extensive and persistent" lawbreaking. Barbara Underwood said the foundation is an illegal shell entity the Trump family uses to launder money, avoid taxes,and in 2016 illegally fund his presidential campaign. That last one is pretty significant - because if it is proven in this civil suit, it gives ammunition to federal prosecutors seeking to prove that Trump had engaged in "unlawful political co-ordination" designed to influence the 2016 election.
Argentina took a cautious step towards legalizing Women's Reproduction Rights. The lower house of parliament voting by a narrow margin of 129 - 125 to approve a bill legalizing abortion in the first 14 weeks of pregnancy. The lawmakers' debate lasted for more than 22 hours. The bill now moves to the Senate, and President Mauricio Macri said he'd sign if it's passed.
A court in Hungary handed down jail terms to human traffickers responsible for the deaths of 71 migrants who were locked in the back of an air-tight truck and left to die. Authorities found the decomposing bodies on a roadside in Austria in 2015 at the height of the European immigration crisis; the dead, including four children, were all refugees from the wars in Afghanistan and the Middle East. An Afghan identified as the gang leader got 25 years, as did three Bulgarian accomplices.
The Royal Academy of Engineering is honoring an African inventor for his rather ingenious photo-optic device which detects Malaria in a patient without having to draw blood. Malaria is the leading cause of death in Uganda, the home country of 24-year old inventor Brian Gitta. Standard blood tests failed to properly diagnose his own infection, and so he used his computer skills to come up with the Matibabu.


It shines a red light that highlights the changes in the color, shape, and concentration of red blood cells caused by Malaria. The results are then displayed on the health care worker's smart phone in about a minute. "(The) Matibabu is simply a game-changer," said Rebecca Enonchong, one of the judges of the Royal Academy's Africa Prize for Engineering Innovation. "It's a perfect example of how engineering can unlock development - in this case by improving healthcare." The word Matibabu is Swahili for "treatment".