World AM News Briefs For Friday, 6 October 2017
Good Morning Australia!! - Europe deperately tries to save the Iran nuclear deal as Trump appears to be ready to kill it - New details about what the Las Vegas gunman might have been planning - Canada protects women's health - And more in your CareerSpot Global News Briefs:
Because not enough crazy, awful, destructive things happened this week, the orange clown Donald Trump is reportedly going to decertify America's participation in the Iran Nuclear Deal, claiming it's not in the national interest of the United States. That opens the doors to the return of economic sanctions on Iran, which complied by the multinational agreement and stopped developing nuclear weapons.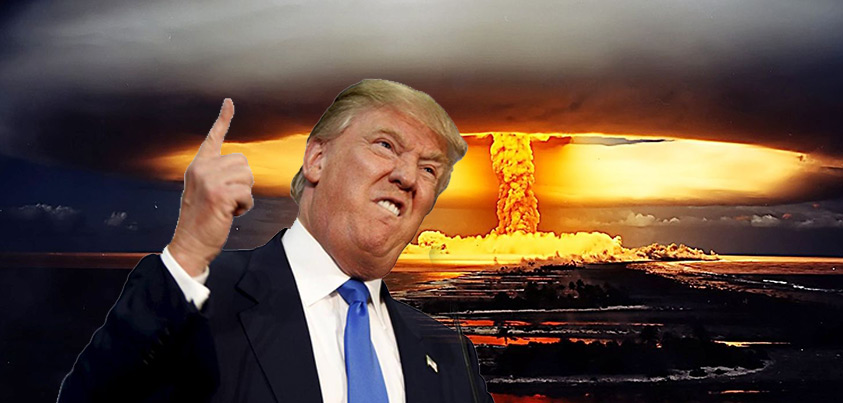 The White House is expected to fully reveal its misguided and boneheaded policy change in a poorly-worded and factually borderline speech punctuated by hand gestures with really, really short fingers, belched by Trump on 12 October.
Trump's move will kick the matter over to the US congress to decide if the US will stay in the Iran Nuclear Deal. Europe is already considering lobbying members of congress, reminding the US lawmakers that the agreement - formally known as the Joint Comprehensive Plan of Action (JCPOA) - involves several countries. European foreign affairs chief Federica Mogherini has already chastised Washington saying, "This is not a bilateral agreement. It belongs to the international community." Russian and China maintain that the two-year old JCPOA cannot be negotiated at this point, despite the moronic wishes of some Iran hawks in the US congress.
Las Vegas Massacre gunman Stephen Paddock had booked hotel rooms overlooking the Lollapalooza Music Festival in Chicago and above Boston's Fenway Park. This was in the weeks and months prior to last weekend's slaughter at an outdoor country music festival beneath the Mandalay Bay Hotel on the Vegas strip, where Paddock opened fire with modified assault weapons 58 people and himself, and injuring hundreds more. There's no evidence that Paddock made it to either city, and the hotel in Chicago said he didn't check in - However, former President Barack Obama's daughter Malia attended Lollapalooza. This follows information that Paddock reserved three rooms at a Las Vegas hotel overlooking yet another music festival, this one featuring Chance the Rapper. Investigators say they believe that, although Paddock killed himself in the Mandalay Bay last weekend, he may have intended to survive and escape the scene of the crime.
The National Rifle Association broke its silence after the slaughter in Las Vegas, announcing its half-arsed support for a ban on so-called "bump stocks", which effectively convert assault weapons into machine guns. With even some Republicans moving legislation to ban them, the NRA said it would prefer a new rule or regulations from Bureau of Alcohol, Tobacco, and Firearms (ATF), rather than legislation. In other words, an act of Congress would take another act of Congress to undo, but getting rid of a regulation wold only take a nice quiet phone call to an unaccountable bureaucrat. Note that the NRA doesn't allow bump stocks at its own shooting range.
The anti-abortion rights US Republican Congressman who pressured his extra-marital girlfriend to have an abortion is quitting. Rep. Tim Murphy (R-Pennsylvania) had previously said he'd retire at the end of his term. Republican leaders say they welcome Murphy's decision to stop embarrassing them with flagrant GOP hypocrisy. What's weird is that Murphy isn't even the first anti-abortion Republican to pull this stunt: Tennessee Rep. Scott Desjarlais reportedly pressured one of his six ex-girlfriends to get an abortion, and his wife had two of the procedures - all while he voted against abortion rights for women who weren't rich Republicans. And yet the goons in Tennessee keep electing him.
Canada's Ontario province will outlaw crazy anti-abortion protests around women's health clinics. The Safe Access to Abortion Services Act will create 50-meter "safe access zones" around abortion clinics as well as the homes of staff. "Our government is standing up for every woman's right to choose, and protecting the safety of abortion service providers," said Ontario's Attorney General Yasir Naqvi. British Columbia, Quebec, and Newfoundland and Labrador already have such safety laws.
Four children and a teacher are dead after a sacked security guard set a daycare center on fire. This happened in the remote town of Janauba, Minas Gerais state in Brazil. More than two dozen people, mainly children were hurt; and the ones with the worst burns were airlifted to Belo Horizonte for treatment.
Brazilian police arrested former national Olympic Committee president Carlos Nuzman in a corruption scandal in which he allegedly stashed 16 gold bars with US$2 Million in a Swiss bank. Nuzman is allegedly a key figure in the bribery scandal that brought the Olympics to South America for the first time last year. His personal net worth increased in value by 457 percent in the decade leading up to the games.
Spain's constitutional court suspended next Monday's meeting of the Catalan regional parliament in which lawmakers were expected to vote for independence from Madrid. The court warned that any session carried out in defiance of its ban would be "null", and added that the parliament's leaders could face criminal action if they ignored the court order.