World AM News Briefs For Thursday, 11 January 2018
Good Morning Australia!! - A judicial panel might just have advanced marriage equality across an entire hemisphere - Myanmar is starting to admit the obvious - Drink driving in a tank- And more in your CareerSpot Global News Briefs:
The Inter-American Court of Human Rights has ruled that same-sex marriages should be legal, which might lead to revolutionary change across the Western Hemisphere. The ruling is binding on signatory nations to the American Convention on Human Rights. The judges said governments "must recognize and guarantee all the rights that are derived from a family bond between people of the same sex". That means Left-wing countries that don't recognize gay marriages such as Bolivia, will be expected to change their laws along with conservative countries such as Honduras, the Dominican Republic, and Peru. The case was brought by Costa Rica, which welcomed the ruling and plans to adopt it.
Myanmar's military is admitting that government troops were involved in the killings of Rohingya Muslims in 2017's violence in Rakhine state. An investigation found that four members of the security forces helped villagers carry out "revenge" attacks on ten people the report called "Bengali terrorists" - the Myanmar government's term for the Rohingya. This happened in Inn Din village near Maungdaw, and barely accounts for the murders and disappearances of thousands of Rohingya in Rakhine, nor the 650,000 driven from their ancestral homes into squalid refugee camps in Bangladesh.
The Syrian offensive on one of the last stronghold of anti-government rebels has displaced at least 100,000 people since November. The UN says the situation is "dire" for those forced from their homes in the north-western province of Idlib and neighboring parts of Hama and Aleppo - parts of which were supposed to have been "de-escalation zones" in which the civil war was winding down to protect civilians.
Colombia has suspended peace talks with the Communist ELN rebel group. A cease-fire enacted to allow for negotiations expired on Tuesday, and ELN guerillas allegedly attacked an oil pipeline and a navy base shortly after the deadline had passed. President Juan Manual Santos, who was awarded the 2016 Nobel Peace Prize for reaching a peace plan with the Marxist FARC rebel group, is now threatening retaliation against the ELN.
More than 200 people have been arrested in widening anti-austerity protests in Tunisia, which is troubling because it is the only place where the Arab Spring from a few years ago actually worked. The government says at least 49 cops have been hurt in clashes. Protesters are demanding a reduction in the Value-Added Tax, reversing a wave of privatization of public entities, and increases in social spending such as pensions, healthcare, and education. The government has troops protecting its buildings and banks.
A cholera outbreak has killed more than 60 people in Zambia.
Ethiopia is banning foreign adoption over concerns of abuse and neglect of children taken overseas. Rights groups say the process was prone to abuse by human traffickers who saw Ethiopia as lucrative market. Denmark already stopped the adoption of children from Ethiopia two years ago. Most children adopted out of Ethiopia go to the US - 15,000 since 1999.
Poland's new PM Mateusz Morawiecki is calling for dialogue with the European Union over its concerns that Warsaw's judicial reforms are undermining democracy. Critics blast the "reforms" for granting the ruling part unprecedented power in appointing judges, thus politicizing the judiciary, and giving those judges authority to reopen closed cases and settled laws. Morawiecki says the concerns are based on "misunderstandings".
Crews are fanning out in the area of the Southern California mudslides in a search for more survivors. The death toll shot up to 15 lives lost.
Trains and helicopters are reaching the thousands of tourists trapped in ski lodges in the Swiss Alps after a freakishly heavy snowstorm. So, vacation's over folks.
Russian police arrested a man for stealing an armored military vehicle and crashing it into a supermarket, where he stole a bottle of wine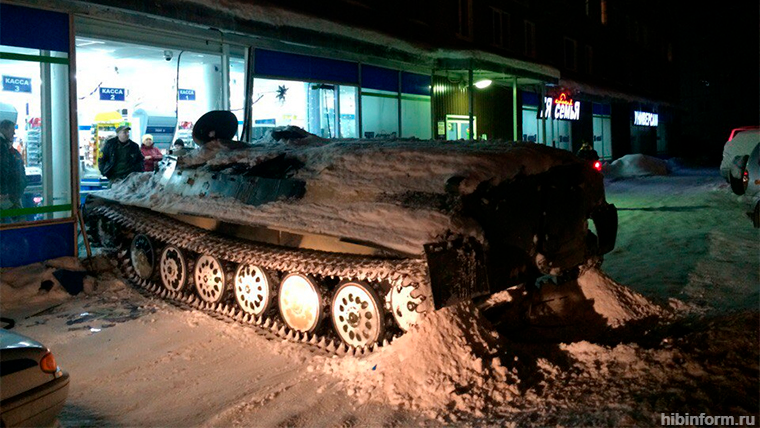 The suspect ran over a car and caused all sorts of damage in Apatity, a far northwestern town above the Arctic Circle.
Women over the age of 18 are finally allowed to buy a drink in Sri Lanka. The government recognized that the 1955 law prohibiting the sale of alcoholic drinks to not-guys is discriminatory. Although the law was barely enforced, Women took to social media to thank the government for its decision.