World AM News Briefs For Thursday, 14 September 2017
Good Morning Australia!! - Violence fouls the Aussie same sex marriage survey - Another council shuns Australia Day - Eight seniors die in a Florida nursing home that had its electricity cut off by Hurricane Irma - Suu Kyi finds another way to disappoint - And more in your CareerSpot Global News Briefs:
People warned the government that subjecting the same sex marriage issue to a popularity contest in the form of the postal survey would bring out the worst in some folks, and it has: The godson of former PM Kevin Rudd suffered a cut on the face in an attack by an unhinged man who was throwing a tantrum while ripping down rainbow flags in the Brisbane suburb of Bulimba.


The criminal is described as Caucasian with grey hair, a stubbly grey beard, and about 185 centimeters tall. Bulimba 4 Marriage Equality co-founder Sinead Cunningham says Rudd's 19-year old godson Sean isn't even a group member, but was merely sitting at a bus stop on his way to work.
A third Melbourne council has voted to dump official Australia Day celebrations and join the push to move the holiday to one of the 364 other days of the year that isn't grossly offensive to many indigenous people, as well as their friends and supporters. The Moreland council adopted a motion reading, "January 26 marks the beginning of the British invasion of Aboriginal and Torres Strait Islander lands and oppression of the Aboriginal and Torres Strait Islander people," and thus can't possibly represent all Aussies on a day that's supposed to engender national unity. Moreland joins the Yarra and Darebin councils in abandoning official Australia Day celebrations.
A second nursing home in Florida is being evacuated out of precaution after eight residents died in another Miami elder care facility that didn't have electric power. Temperatures outside were in excess of 32 C degrees and inside temperatures were much higher. The owner of the The Rehabilitation Center at Hollywood Hills has a history of health care fraud charges according to published reports. Florida healthcare regulators do not require nursing homes have a generator, even though they deal with the disabled and elderly in a climate prone to repeated natural disasters. But that's why the for-profit US healthcare system loves Florida: No rules, no accountability. Oh, and as many as 150 nursing homes in Florida are still without power.
So far, eight people have been found dead in the heavily battered Florida Keys. The low-lying island chain was completely inundated during Hurricane Irma and practically every house has some form of serious damage.
One student was shot dead at a high school outside Spokane, Washington, and three were injured. The shooter was arrested. But don't expect your American friends to know about it, because the national media is ignoring anything outside Washington, DC and Florida this week. As far as American gunplay goes, mass murder no longer lights up the media radar anymore: The murders of eight people at a football party outside Dallas, Texas by the bitter ex-husband of the host was barely reported.
Kenyan prosecutors charged a 14-year old girl with setting the deadly fire at Moi Girls High School in Nairobi earlier this month.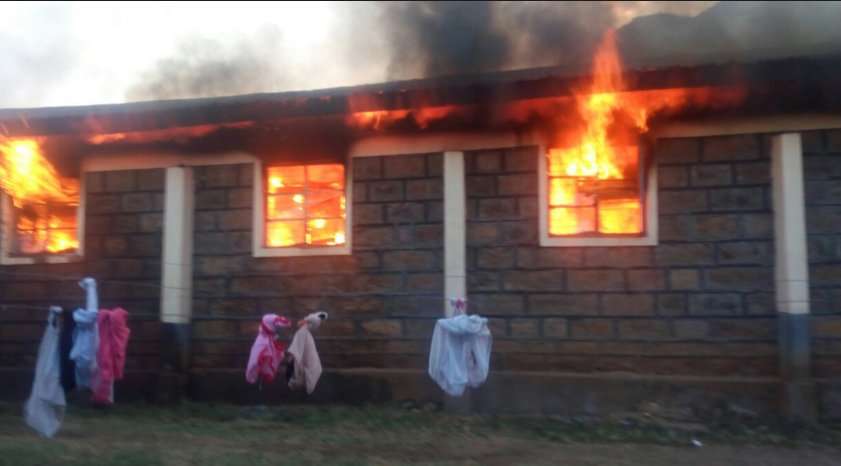 Nine girls died in the fire, which the girl denies setting.
Myanmar's great disappointment and de facto ruler Aung San Suu Kyi will not attend the United Nations General Assembly this month; she will instead stay at home to deal with the Rohingya crisis and wait until the first day of the UN gathering to deliver a message of "national reconciliation and peace" to her nation. SMDH. UN Secretary General Antonio Guterres is calling on Myanmar to cease military operations in Rakhine state, where the military and nationalist mobs have killed at least 1,000 Rohingya. More than 370,000 of the Muslim minority have fled across the border into refugee camps in Bangladesh.
Brazil police arrested the country's biggest meatpackers, Joesley and Wesley Batista for alleged insider trading. Authorities say the billionaire brothers sold off huge volumes of shares in their company just before copping pleas for bribing as many as 1,900 officials, well aware that the revelations would cause their company's shares to tumble.
Actor Frank Vincent, who featured in "The Sopranos", "Goodfellas", "Casino", and "Raging Bull" is dead at age 78, reportedly from complications after heart surgery.