World AM News Briefs For Tuesday, 12 June 2018
Good Morning Australia!! - Italy declares "victory" over showing compassion for homeless, impoverished refugees - The Trump administration wants to leave battered women to their abusers - The "worst is yet to come" in the Syrian Civil War - And more in your CareerSpot Global News Briefs:
Spain's new Prime Minister Pedro Sanchez said his country would give "safe harbor" to the MV Aquarius carrying more than 600 refugees plucked from the Mediterranean Sea over the weekend. "It is our duty to help avoid a humanitarian catastrophe and offer a safe port to these people, to comply with our human rights obligations," Mr Sanchez's office said. This comes after both Italy and Malta refused to let the ship disembark on their respective shores. Salvi had earlier refused the refugee ship access to Italian ports and tried to pressure Malta into taking it; Malta refused because the refugees weren't rescued in waters where it currently conducts search and rescue missions. Malta thanked Spain and announced it would restock the MV Aquarius with fuel, water, and food, because the immigration crisis is a "European problem".
After learning the 629 would come ashore at Valencia, Italy's far right Deputy PM Matteo Salvi tweeted, "Victory!". The leader of the coalition's junior partner, the xenophobic League party, had personally ordered ports to refuse the Aquarius. Mayors of these port cities were indignant, and condemned Salvi. Naples Mayor Luigi De Magistris said, "Whoever puts human lives at risk is not just behaving shamefully and is ethically reprehensible, but is committing a crime." The Mayor of Palermo Leoluca Orlando said, "As a European citizen and as mayor of Palermo, I will lodge with the regional court a complaint relating to the criminal responsibilities of the European states and of the Italian government."
The rescue group SOS Mediterranee, which operates the rescue vessel MV Aquarius, agrees it is a continental problem and says, "Italy can't do the job alone". But the spokesperson said that European rivalries "shouldn't be carried out on the back of those seeking protection and on humanitarian organisations". So far this year, 10,808 people have made the perilous crossing from northern Africa to Europe by sea; 384 people did not, drowning in the Mediterranean.
Not to be outdone by Salvi's dickishness, US Attorney General and bigoted cookie mascot Jeff Sessions rejected an asylum bid from an El Salvador woman who was beaten and raped by her ex-husband.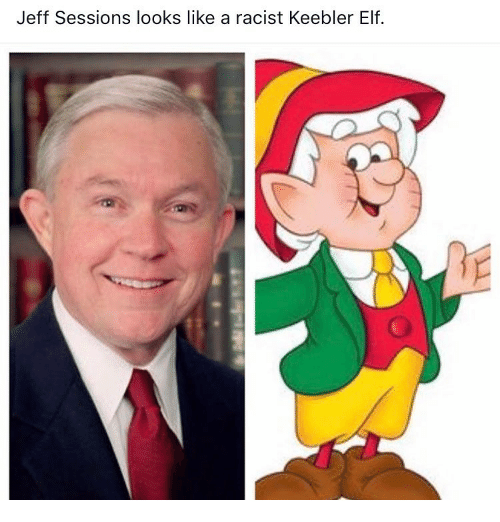 Sounding more like his other doppelganger, the Illinois nazi from 1980's "The Blues Brothers"..

..Sessions says being a victim of domestic abuse or gang violence does not necessarily qualify for US asylum because the "asylum statute is not a general hardship statute" and that immigrants were exploiting the system. Advocates say more than 10,000 abused women risk being deported back to their abusers under Sessions' ugly interpretation of the law. Where are Jake and Elwood when you need them?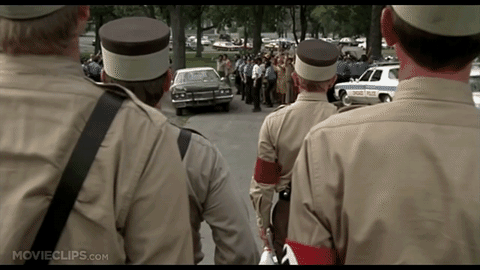 Ah, much better. Thanks, Jake. Thanks, Elwood. Thanks, Universal.
ANYWAY..
Illinois nazi racist cookie elf Jeff Sessions' boss, the orange clown Donald Trump, is due to meet with North Korean leader Kim Jong-un in Singapore today. US officials claim that much progress has been made in talks leading up to the first face-to-face meeting, which will be conducted with only two personal translators in the room. After all this build-up, it's more than likely that the two will take anything, absolutely anything from it and declare the summit a raging success.
Pope Francis has accepted the resignation of three top bishops in Chile. One of them is Juan Barros, whom Francis had attempted to promote - only to be met with outrage because Barros had been involved with covering up sexual abuse by Catholic priests inthe 1980s and '90s. The Pope has said that he made "grave mistakes" by originally defending Bishop Barros.
Human rights organizations want the International Criminal Court (ICC) to investigate atrocities allegedly committed by the Mexican military in a crackdown on drug crime in the Chihuahua region. The campaigners say alleged slayings, torture, rapes and forced disappearances involving 121 victims during 2008 - 2010, were crimes against humanity. But they say they cannot trust Mexican authorities to be impartial in the inquiry.
Even after seven years of war, the UN is warning that "we may have not seen the worst of the crisis" in Syria. Humanitarian officials were jolted by the Russian-backed government's airstrikes on Idlib that killed 40 people a few days ago. Many rebel fighters and their families have been drawn to Idlib, along the border with Turkey, as they were dislodged from previous strongholds around the country. More than 920,000 people were displaced within Syria between January and April - that's the highest number of any four-month span since the war began.