World AM News Briefs For Tuesday, 4 June 2019
Hello Australia!! - Trump insults the UK before stepping off of his plane - A grim discovery on a Himalayan peak - A North Korean official appears to have survived a purge - And more in your CareerSpot Global News Briefs:
Donald Trump's first day on his state visit to the UK began with his gruesome diplomatic blunder of attacking London Mayor Sadiq Khan as a "stone cold loser" and uncouthly and derogatorily referring to the Mayor's height. It was the start of a day in which his Royal hosts appeared grim-faced and to be going through the motions to extend their welcome to an incredibly ungracious desk. This came a couple of days after Trump insulted the American Princess Megan as "nasty" in an interview with The Sun, which played a classic tabloid trick on him by asking him to comment on her criticism of his misogyny and racism. Megan's husband Prince Harry appeared to keep his distance from Trump during Monday's events.
There were no crowds cheering or waving at Trump, and he will be getting around London by helicopter to avoid Tuesday's massive protests. Unlike his beloved predecessor Barack Obama who had a 72 percent approval rating in the UK, 73 percent had absolutely no regard for Trump in a recent poll. Many activists were already trying to get under Trump's skin by projecting images celebrating his late rival John McCain on walls within view of Buckingham Palace..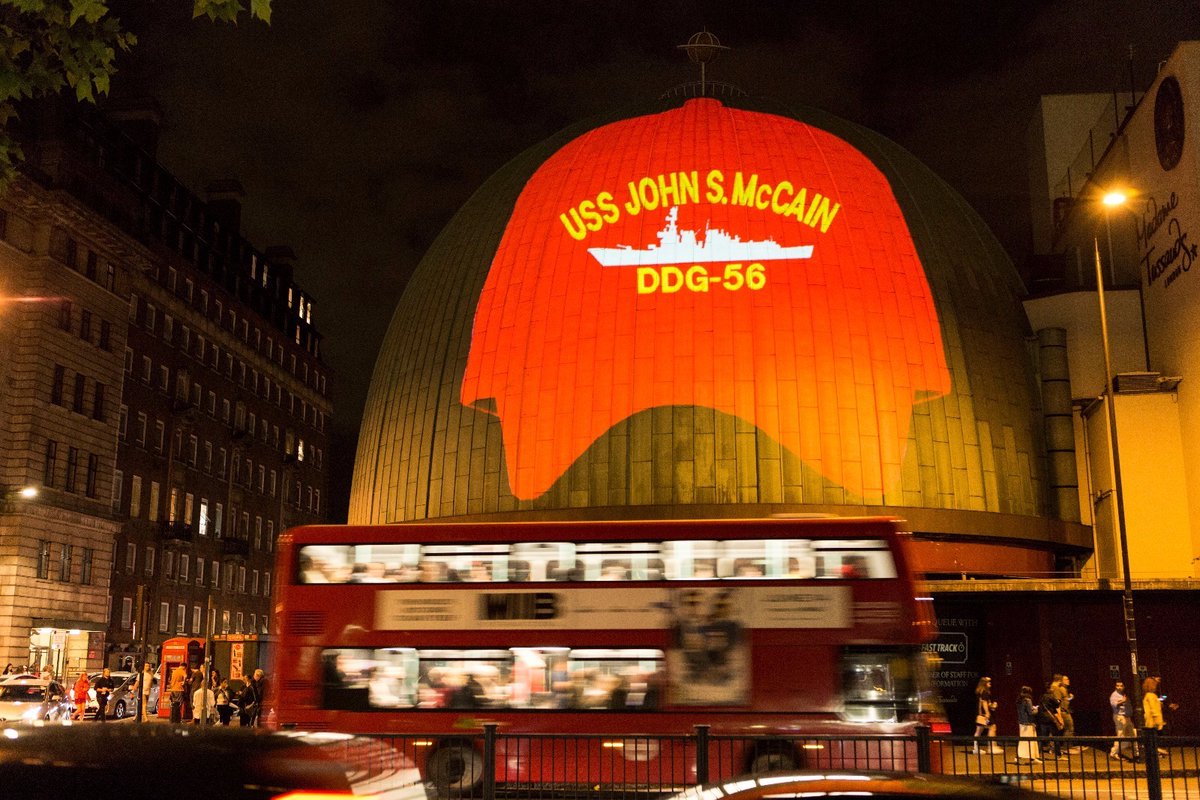 While other showed his miserable approval rating when compared to Mr. Obama..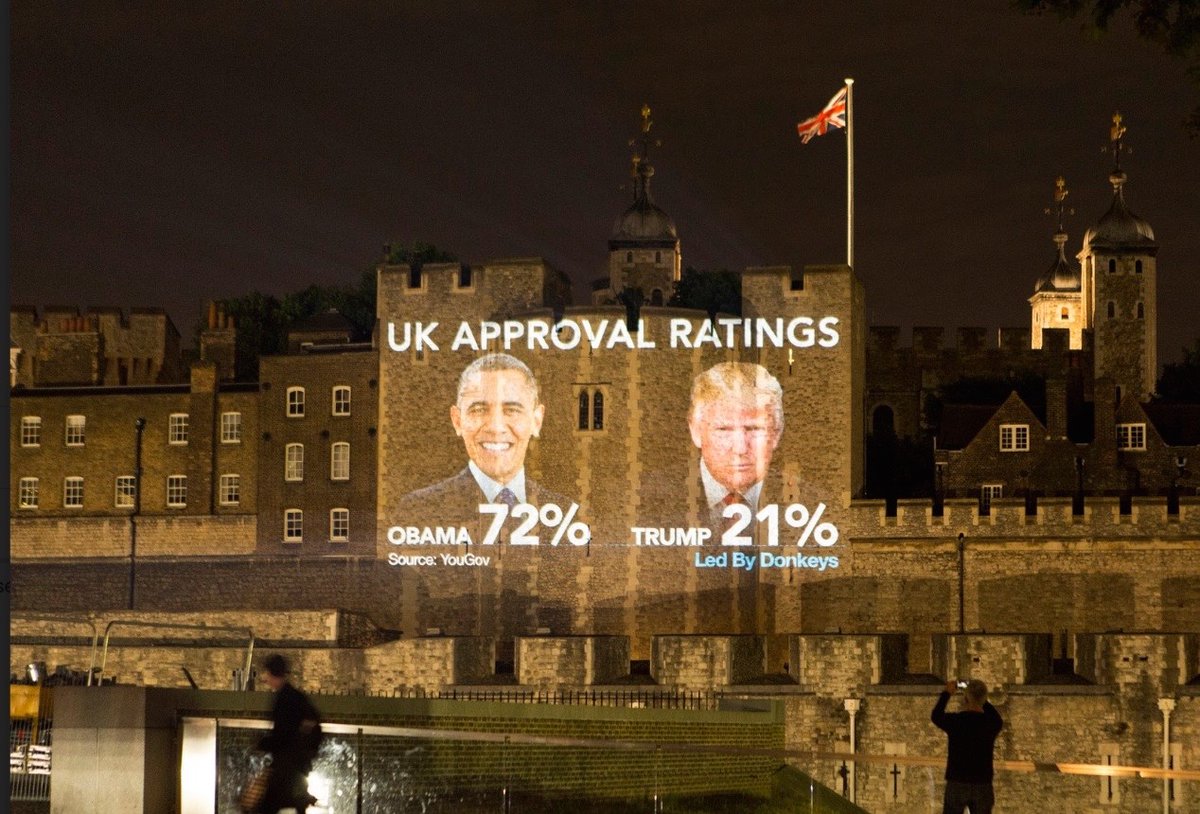 And one young man mowed a large field in view of Air Force One to refute Trump's Climate Change denial..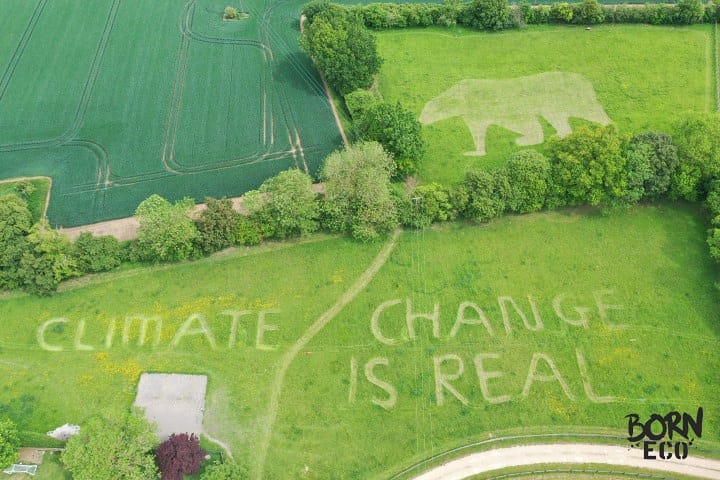 Along with another message which we'll just leave here (hey, it's been reported in mainstream media sources around the world).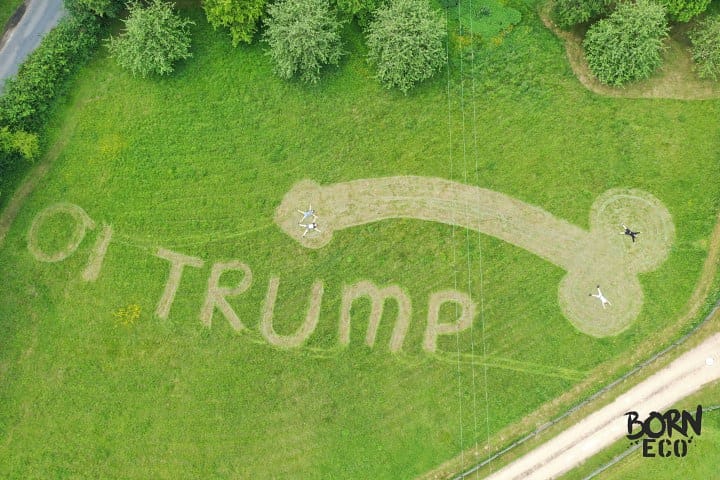 On Tuesday, 250,000 people are expected in central London to protest Trump's visit as he moves on to the business portion of the show, meeting with lame duck Prime Minister Theresa May to discuss trade.
ANYWAY..
Last week, Western media repeated a report in a South Korean newspaper claiming that North Korea "purged" several officials after the failed summit between Donald Trump and Kim Jong-un. But the highest-ranking officials said to have been banished and sentenced to hard labor - Kim Yong-chol - appeared in a new photo released by North Korean state media. He attended an arts presentation over the weekend, and sat just a few seats down from the dear leader. However, the report didn't mention the man's deputy, whom the South Koreans claimed was put to death.
An Indian aerial search team spotted five bodies on the Himalayan mountain Nanda Devi in the area where Sydney woman Ruth McCance, her seven international companions, and their experienced mountain guide were heading towards the peak. There were also signs the five were caught up in an avalanche, as had been suspected after they went missing last week.
UN Secretary General Antonio Guterres is calling for an independent investigation in the deaths of 30 pro-democracy protesters in Sudan, allegedly killed by the military. Guterres said he was "alarmed" by reports that officers had opened fire in a hospital. Pro-democracy protesters forced long ruling President Omar al-Bashir out in April, but the Transitional Military Council (TMC) is dragging its feet instead of having free elections.