World AM News Briefs For Wednesday, 12 July 2017
Good Morning Australia!! - Gun, meet smoke: Donald Trump Jr.'s emails appear to prove collusion with Russia - The founder of IS reportedly has been killed - Beijing insists it is not its North Korean brother's keeper - Cops shut down Italy's Mussolini beach party - And more in your CareerSpot Global News Briefs:
Did the son of Donald Trump actually mean to release an email chain that appears to show collusion between the Trump camp and the Kremlin to influence the outcome of last year's US presidential election? It shows a conversation between Donald Trump Jr. and a music promoter named Rod Goldstone who offered to put Junior in touch with a Russian lawyer who would provide intelligence on Hillary Clinton, clearly stating the Russian government's support of Trump. "This is obviously very high level and sensitive information but is part of Russia and its government's support for Mr. Trump," said Goldstone. "Thanks, Rob, I appreciate it. If it's what you say I love it," Junior replied. US law is very explicit in banning foreign governments from taking part in American elections.
The silence from the right has been deafening. One of the few Republicans to comment on Junior's emails is Senator Lindsey Graham who said, "on its face this is very problematic," and that "definitely he has to testify" before Congress. But Democrats are much more demonstrative, with Senate Democratic Leader Chuck Schumer saying the emails "the end of the idea pushed by the administration and the president that there is absolutely no evidence of intent to coordinate or collude". Sen. Tom Kaine - who was Hillary Clinton's running mate in last year's election - said, "We're now beyond obstruction of justice in terms of what's being investigated. This is moving into perjury, false statements, and even into potentially to treason."
Rep. Adam Schiff of the House Intelligence Committee called the emails "very significant, deeply disturbing new public information about direct contacts between Russia and the very center of the Trump family, campaign and organization" and that Junior's decision to meet with a Kremlin agent to get political dirt on Hillary Clinton was in "violation of oaths of citizenship".
Donald Trump finally broke his three-day silence on his son's mounting problems: In a statement, Trump hilarious said, "I applaud his transparency," which actually means, "OMG I can't believe he did this." Trump also referred to Junior in the same way that most people would describe a plumbing fixture or lawn-mower, calling him a "high-quality person".
MOVING ALONG...
The founder of the so-called Islamic State is dead, according to a London-based group that monitors the Syrian Civil War. The Syrian Observatory for Human Rights says it had "confirmed information" that Abu Bakr al-Baghdadi has been killed. His death has been announced several times before, but the Observatory has a good track record of credible reporting. The US, Iraq, and Kurdish Peshmerga cannot confirm the news, while Russia claimed to have killed al-Baghdadi in a missile strike in March. This comes almost three years to the day that al-Baghdadi declared his "caliphate" in Iraq and Syria, which has since been nearly wiped out.
Beijing is hitting back at what it calls the "China responsibility theory" used by Western governments demanding it use its influence over North Korea to end the rogue state's increasingly dangerous nuclear weapons program. The US and Australia have held that China should use its economic and diplomatic links with Pyongyang to exert pressure. Chinese Foreign Ministry spokesman Geng Shuang said, "I think this either shows lack of a full, correct knowledge of the issue, or there are ulterior motives for it, trying to shift responsibility."
Haiti is launching a recruitment drive for a new army, 20-years after its military was dissolved. Peacekeeping in the impoverished nation has been handled by UN troops over the past two decades of political stagnation, violence, and compounded natural disasters. But the UN is pulling out in October. Critics of the plan say that Haiti's meager budget should prioritize a 15,000 member police force instead of a 500 member military.
Police near Venice, Italy shut down a privately-owned beach resort that celebrated pre-World War II fascist rule. The Punta Canna resort displayed signs that made light of the holocaust, and declared itself an "anti-democratic zone and regime" that insisted on "Order, cleanliness and discipline".


The owner told La Repubblica newspaper that he was "delighted to have an exemplary clientele", and that he hated filthy people and democracy. But Italian law bans nazi or fascist declarations that incite violence and discrimination, and the Venice prefect ordered the signs taken down. Besides, the Italian people themselves already worked out the proper way to display fascists icons.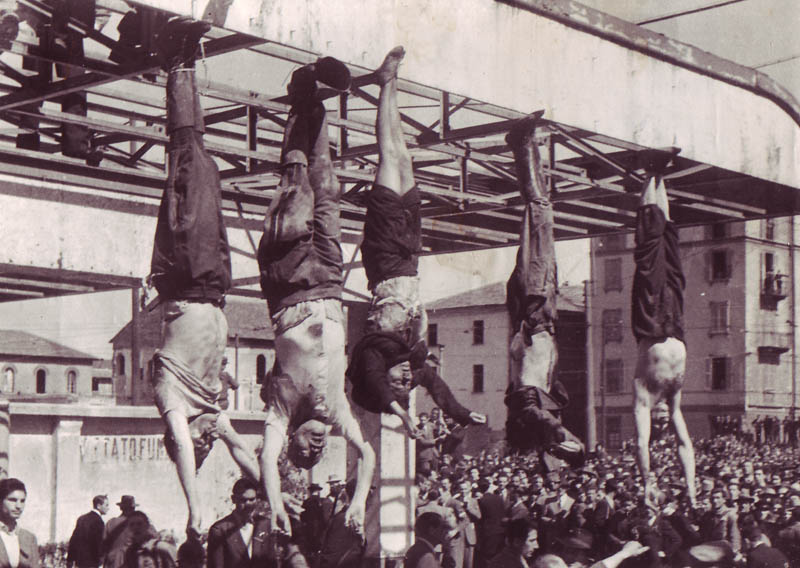 That's how fascism ended on 28 April 1945 in Milan's Piazelle Loreto. ANYWAY, new proposals put forward by the center-left Democratic Party (PD) would punish distributors of fascist propaganda with two years in prison.