World AM News Briefs For Wednesday, 13 September 2017
Good Morning Australia!! - The killing of a Sydney woman is referred to US prosecutors - Damage from Hurricane Irma is worse than expected - So, why did porn hilariously appear on the social media feed of a notoriously repressed US Senator - And more in your CareerSpot Global News Briefs:
The officer-involved shooting of former Sydneysider Justine Damond has been handed to prosecutors for possible charges against the cop who pulled the trigger. Ms. Damond called Minneapolis, Minnesota police to report a possible sexual assault in the alley behind her home in the US Northern Tier metropolis; but Officer Mohamed Noor drew his weapon and fired across his partner in the driver's seat of their squad car as she spoke to them. Local prosecutor Mike Freeman said the shooting of Damond "didn't have to happen - it shouldn't have happened". Prosecutor Freeman had earlier declined to file charges against the white cops who shot and killed black motorist Jamar Clark in November of 2015.
North Korea and the US spent Tuesday trolling one another after the United Nations approved tougher economic sanctions in response to Pyongyang's sixth test of a nuclear weapon. North Korean Ambassador to the UN Han Tae-song told a conference in Geneva that his country will "make the US suffer the greatest pain it has ever experienced in its history". Donald Trump at the White House welcomed the UN vote but added that "sanctions are nothing compared to what ultimately will have to happen" - without elaborating. The new sanctions ban textile exports from North Korea and severely restrict petroleum imports.
Myanmar is rejecting the UN's accusations of "ethnic cleansing" of the Rohingya Muslim minority in western Rakhine state. "Democratic Myanmar shall never tolerate such atrocities," said Ambassador Htin Lynn to the UN Human Rights Council in Geneva. "I would like to place on record Myanmar's strong objection to the use of such terms by the high commissioner," he added. But with Rohingya villages burned to the ground and an unknown number of dead, more than 370,000 have fled Myanmar troops and nationalist mobs, and are sheltering in teeming refugee camps in Bangladesh - the prime minister there said mere words couldn't express her condemnation of Myanmar's actions: "The Myanmar government should have handled this situation patiently and (not) allowed the army of the law enforcement agencies to attack the common people," said PM Sheikh Hasina. "What are the crimes of the women, children, the innocent people?" she asked, demanding that Myanmar take back its people.
It turns out that international terrorism isn't so much fun when they're losing. The Guardian newspaper reports that dozens of Islamic State defectors have recently slipped across Syria's border with Turkey and have made or are making their way back to their homes in the Middle East, North Africa, and Europe - and hundreds more are massed in Idlib province, ready to follow. The so-called Islamic State has lost most of the territory is controlled in Iraq because of the US-coordinated assault by government troops, Shiite militias, and - the most-effective fighting force of them all - the Kurdish Peshmerga and Socialist People's Protection Units of Rojava.
The US death toll from Hurricane Irma climbed to twelve lives lost, and crews have restored electric power to 2.2 million households. But 4.4 million households are still without power and shouldn't expect to be restored before 17 September on the state's east coast and 22 September on the west. The damage to the Florida Keys is staggering: The US Federal Emergency Management Agency said 25 percent of homes on the chain of islands have been destroyed, another 65 percent suffered major damage. Freshwater supplies are shot and sewage systems are down - meaning that it's going to miserable in a day or two. The Florida Department of Transportation is repairing two sections of the 115 mile causeway that connects the Keys to the mainland. The lush, tropical foliage is largely gone - the Keys are effectively now desert islands.
In Havana, Cuba, citizen volunteers fanned out to clear streets of trees, rubble, and other debris, and two international airports have already reopened. But the famed Malecon esplanade, which was submerged by seawater during the hurricane, was still closed to traffic. But Yuri Villamonte, deputy minister for energy and mines, had grim news about restoring electricity: "Due to severe damage Hurricane Irma caused in all thermoelectric power plants, we cannot estimate how long it will take to recover and fully enable electric power," he said hoping that it would be "sooner, rather than later". Because so many wells and cisterns were contaminated with flood water, UNICEF said it is sending three million chlorine tablets to Cuba to help restore water supplies. The Cuban Communist party newspaper Granma says flooding on the north coast was probably the worst the island had ever seen.
French President Emmanuel Macron is visiting French islands that took the full force of Hurricane Irma, promising that "one of the biggest airlifts since World War Two" was bringing more aid. King Willem-Alexander of the Netherlands visited Dutch colonies. Authorities are now saying that 90 percent of the popular tourist island of Saint Martin - and we're talking about the French and Dutch halves - is destroyed. Barbuda is said to be "barely habitable"; buildings and infrastructure on the US Virgin Islands have been largely destroyed; the British Virgin Islands, Saint Bart's, Anguilla, the Turks and Caicos were also heavily damaged. On these and other islands, food and water is running out.
Was one of America's most-conservative bible-thumping senators caught choking the chicken? Mr. Repression himself, Senator Ted Cruz of Texas blamed a "staffing issue" after a porn video was "liked" by his Twitter account. This is the same Ted Cruz who famously railed against masturbation and once tried to fight the online sale of dildos. The like was deleted, but not before everyone else in the world got a few screen shots.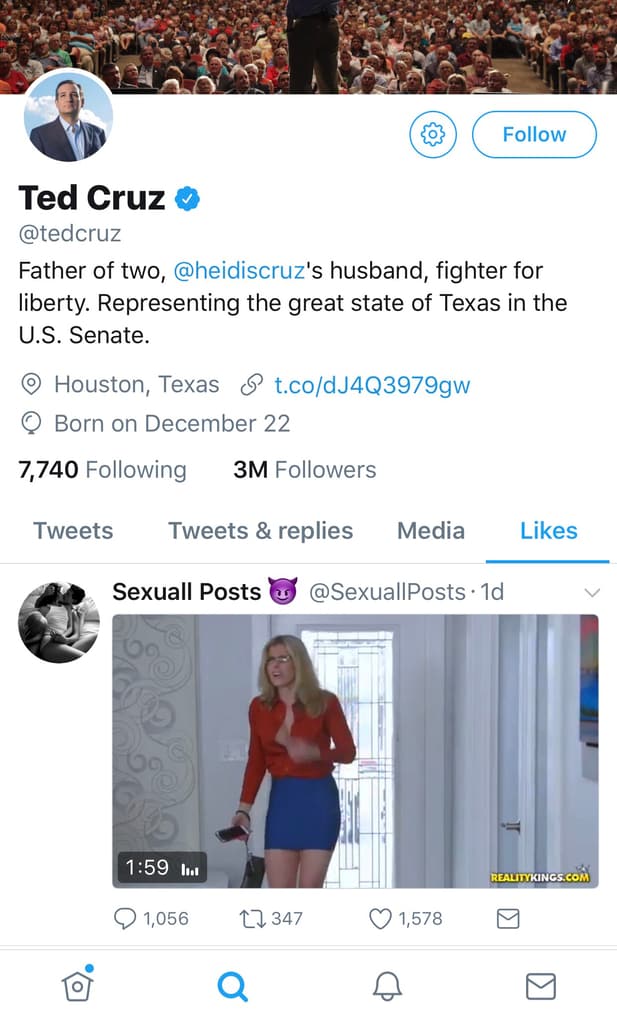 To summarize the plot, the nice lady in the red blouse walks in on two people doing it and after some careful consideration, joins in. You see, she's wearing glasses.. so she thinks it over. There were better screenshots of Ted's Twitter, but, you know. "It was a staffing issue and it was inadvertent," the senator said, blaming it on the poor suckers who work for him. "It was a mistake." Many people were disappointed in the infernal blandness of the choice of porn, while others were encouraged that the most-hated man in Washington might finally showed the slightest glimpse of normal human behavior.
Baby Panda at Tokyo's Ueno Zoo is three months old!