World News Briefs For Saturday, 15 July 2017
Hello Australia!! - Teens are arrested in an acid attack spree - A suspect spy says he was at Trump Jr.'s meeting with a Russian lawyer - A highway to avoid - And more in your CareerSpot Global News Briefs:
London Police arrested two teenagers for throwing acid in the faces of five men in a string of attacks in the UK capital. One of the victims is said to have suffered "life changing" injuries. In each case, the attackers and the victims rode mopeds the attackers threw the caustic material in the face of the victim and stole his moped. Earlier this week, a man was charged with acid attacks on two Muslim cousins; both suffered horrific face and neck injuries. "I don't want people to think that this is happening all over London all of the time - it's really not, but we are concerned because the numbers appear to be going up," said Metro Police Commissioner Cressida Dick, adding such attacks are "completely barbaric".
A former Soviet spy suspected of current ties to Russian intelligence sat in on the meeting between Donald Trump Jr and a Russian lawyer. This revelation comes after Junior earlier this week claimed that there were no additional parties at the meeting. Junior agreed to take the meeting during the presidential campaign last year after being told the lawyer was going to serve up negative information stolen from the emails of his father's election rival Hillary Clinton. The shady character who junior didn't want to talk about is Rinat Akhmetshin, who was named in US Congressional hearings as potentially connected to Russian efforts to disrupt elections around the world.
North Korea may have more plutonium for nuclear weapons than previously thought - that's according to the US think tank 38 North which monitors Pyongyang's offensive capabilities. Thermal satellite imagery indicates increased activity inside the radiochemical laboratory at the Yongbyon nuclear plant and at the Experimental Light Water Reactor. Prior to this increased activity, it was thought that Pyongyang has enough plutonium for as many as eight nuclear bombs.
Brazil's political dysfunction showed its ugly, hypocritical face again when a committee in the conservative-dominated congress declined to recommend criminal charges against President Michel Temer, despite him being caught on tape discussing illegal hush money payments with a wealthy businessman who turned state's evidence. Temer is unlikely to be prosecuted, because it requires two-thirds of the lower house to approve criminal charges. This comes the same week that the popular Left Wing former president Luiz Inacio "Lula" da Silva vowed to appeal his conviction on charges of accepting bribes on much scanter evidence.
Three Palestinian gunmen opened fire on two Israeli police officers near the Temple Mount and Al Aqsa Mosque, killing both cops. Other oficers then killed the gunmen. Meanwhile in Egypt, an attacker swam from a public beach to a tourist resort where he killed two German woman and wounded two other people. The attacker then went to an adjacent resort to wound two more people before he was arrested. Authorities didn't announce the motive, but Egypt has been dealing with an Islamist insurgency.
A traditional chief in Lagos, Nigeria has been suspended after getting caught faking his own kidnapping which he tried to pin on a rival. Chief Yusuf Ogundare's scheme unraveled when witnesses reported him "frolicking" at a resort across the country during the time he was supposedly being held.
A highway in the US state of Oregon has been slimed, aftera truck carrying a load of the most disgusting creatures in the history of the world overturned.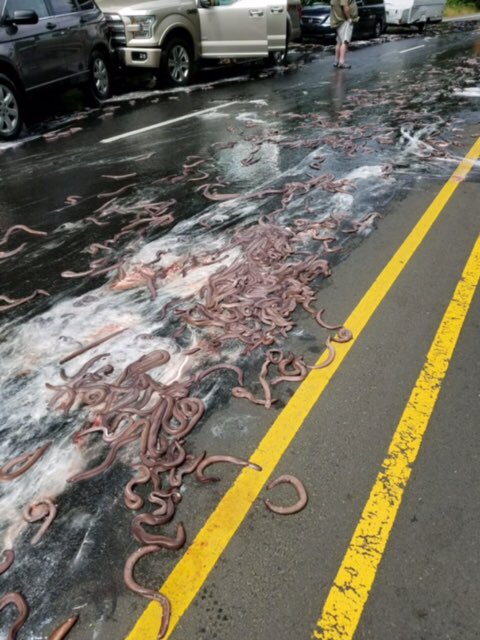 Hagfish, also known as Slime Eels, secrete a ton of mucusy goo when stressed; and, oh boy, all 3,400 kilograms of hagfish were stressed when the truck overturned on Highway 101 near Depoe Bay.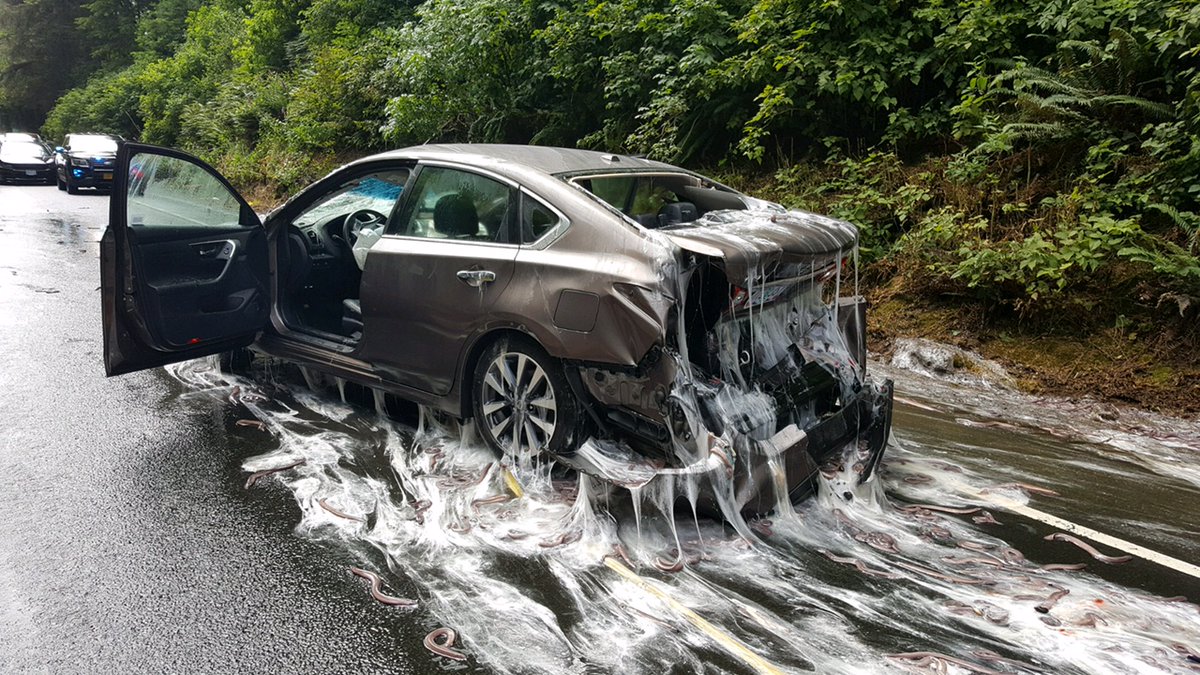 And there's a heatwave in the area, so it's going to smell wonderful for the next couple of weeks. The contents of the truck were supposed to have been exported to South Korea, where for some reason they are considered a delicacy.
Baby race! Noo one cares where or why.