World News Briefs For Saturday, 7 October 2017
Hello Australia!! - This year's Nobel Peace Prize Aussie roots - The UN Children's agency reacts to the federal government's terrorism plan - Ireland honors an unexpected son with a postage stamp - And more in your CareerSpot Global News Briefs:
This year's Nobel Peace Prize goes to an anti-nuclear weapons group with roots in Melbourne. The International Campaign to Abolish Nuclear Weapons (ICAN) "is receiving the award for its work to draw attention to the catastrophic humanitarian consequences of any use of nuclear weapons, and for its ground-breaking efforts to achieve a treaty-based prohibition on such weapons," said Nobel committee chairwoman Berit Reiss-Andersen. Based in Geneva, the initial fundraising to start ICAN was held in Melbourne as was the organization's formal launch on 23 April 2007. "In a sense, it's the first Australian Nobel Peace Prize that's ever been awarded," said ICAN Asia-Pacific director Tim Wright to the ABC.
Queensland Minister for Agriculture, Fisheries and Rural Economic Development Bill Byrne is standing down from the Labor government because of a "life threatening" medical condition, and will not contest his Rockhampton seat in the next election. "Throughout his career, in the Australian Defence Force, as a Member for Parliament and recently as a Minister, Bill has put others ahead of himself and his family," said Premier Annastacia Palaszczuk; but she added, "Bill has been advised that his condition is life-threatening, and he will undertake more tests in Brisbane next week." Mr. Byrne plans to serve the remainder of his term in Parliament.
UNICEF Australia is raising alarms over the governments plans to jail terrorism suspects as young as ten years old for up to two weeks before charges are filed. "Children should only ever be subject to detention as a measure of last resort and for the shortest appropriate time," said Jennifer Tierney, Director of Fundraising and Communications for UNICEF Australia. "We urge Australian governments to consider the vulnerabilities of children and ensure strict safeguards for their rights and well-being in all circumstances," she added. The opposition has accused the government of concealing key parts of its anti-terrorism plan. "The government's provided no details at all, but at present, it's a shocking and drastic step to propose, without charge, the detention of a child of 10 years old," said shadow attorney-general Mark Dreyfus. The government says the policy is necessary because, who knows, security or something.
The Spanish government's representative in the restive Catalonia area is apologizing for the brutal crackdown on last weekend's independence referendum. Hundreds people were hurt as national cops attacked polling stations and the little old ladies lined up to vote. Ultimately, the independence referendum passed with 90 percent voting in favor. The Spanish constitutional court had already declared the referendum invalid, but it appears that Catalan officials are going to go ahead and declare independence next Tuesday. Meanwhile, the Spanish government issued a decree allowing businesses to move their legal headquarters out of Catalonia without asking shareholders first.
The International Olympic Committee (IOC) has suspended its Brazilian arm because of the corruption scandal. The IOC arrested Brazil's Olympic committee, Carlos Nuzman, who was earlier arrested in an alleged bribery scheme that brought the Olympic games to the ill-prepared country last year.
The Trump administration did a bunch of crappy things to America on Friday: It suspended an Obama-era rule that required employers to provide free birth control to millions of Americans via their health care coverage. Trump will allow religulous companies to opt out based on "religious beliefs" or "moral convictions". Fifty-five million women benefited from the Obama-era rule. The Trump (in)Justice Department also weakened protections for LGBT workers, allowing more employers to hide behind religion when firing fire LGBT workers.
Nigeria is warning people not to eat bushmeat after ten people contracted suspected Monkeypox in the southern Bayelsa State. It's not usually fatal to humans, but could be if untreated. The Monkeypox virus is, not surprisingly, found in monkeys - but is also found in all bush animals such as rats, squirrels, and antelopes.
Ireland's post office is issuing a new One Euro postage stamp featuring the image of Che Guevara, on the 50th anniversary of his murder by CIA-backed Bolivian troops in 1967.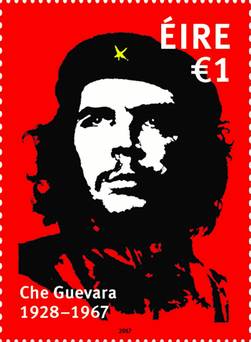 Ernesto "Che" Guevara Lynch was born in Argentina the son of an Irish civil engineer who said, "In my son's veins flowed the blood of Irish rebels". He helped Fidel Castro overthrow the corrupt and abusive Bautista regime, and became an icon to freedom-seeking people around the world. The stamp will feature the famous photo of a bearded and beret-wearing Che on a red background created by Dublin artist Jim Fitzpatrick.