World News Briefs For Sunday, 14 January 2018
Hello Australia!! - Hawaii was not wiped off the face of the earth, although millions were worried - Consequences for a racially-charged internet ad - Iran promises to get back at Trump - And more in your CareerSpot Global News Briefs:
Someone pressed the wrong button in the US Pacific paradise of Hawaii and sent out a "false" emergency ballistic missile alert that flashed on cell phones and broadcast media across the island chain, setting off a mini-panic.


State lawmaker Matt Lo Presti told local media that he followed hurricane procedure and gathered his family into the strongest room in the house - the bathroom - and started praying. He's among many thousands who are pretty angry. The alert was followed minutes later by an all clear and an explanation that it had been a false alarm.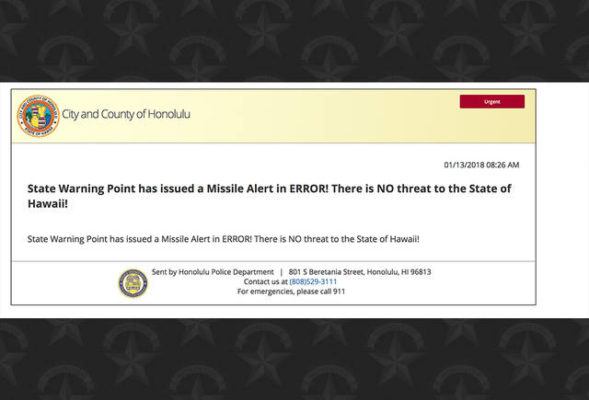 Governor David Ige and emergency management officials said someone literally pushed the wrong button in the Civil Defense headquarters deep in the Diamond Head crater, and there will be an investigation. So, someone's head(s) will roll at some point.
Although many people were afraid that North Korea's Kim Jong-un was doing something really stupid, or the orange clown Donald Trump would react, this incident didn't spark global thermonuclear war - and wouldn't have. The US military response to incoming missiles across the Pacific Ocean is not based on alerts from state Civil Defense agencies. It would only come after the military's extensive network of satellites and radar confirmed the inbound ICBM, which would be met with interceptor missiles launched from bases in California and Alaska. Trump himself was out on the golf course at Mar-a-Lago in Florida, and returned to his residence as the scenario played out.
Iran's Foreign Ministry is vowing unspecified retaliation against the US for smacking economic sanctions against judiciary chief Ayatollah Sadeq Amoli-Larijani. The orange clown Donald Trump last week renewed US participation in the multi-nation Iran Nuclear Deal, but he signed off on sanctions against that Ayatollah and a dozen others over alleged human rights violations. Tehran accused Trump of "continuing to take hostile measures against the Iranian people and repeating the threats that have failed many times".
Salvage workers found two more bodies on the Iranian oil tanker Sanchi that is still burning off the coast of Shanghai, China more than a week after its collision with a cargo ship. That means only three of the crew manifest of 30 Iranians and two Bangladeshis have been found. A team of Iranian commandos will join the salvage operation.
Protesters sacked and trashed an H&M store in South Africa over the Swedish clothing giant's website that featured a young black boy modelling a green hoodie with "coolest monkey in the jungle" written on it. Although the retailer withdrew the ad and the product, the anger has not subsided. Cops fired rubber bullets to disperse the angry crowd organized by the radical Economic Freedom Fighters Party, which did not apologize for the melee.
Chanting "nazis out!" and other slogans, at least 20,000 people marched in the Austrian capital of Vienna over the inclusion of the far-right Freedom Party (FPO) in the new coalition government. This comes after the Interior Minister, an FPO member, last week suggested nazi language in dealing with the influx of immigrants into the country. Herbert Kickl suggested "concentrating" asylum seekers to camps where housing and services would take place.
The Czech Republic's presidential election is going to a run-off after outspoken (i.e., "blowhard") pro-Russian President Milos Zeman failed to clear 50 percent of the vote. Zeman, who like many of his generation began his career with the Communist Party in the 1960s and gradually drifted right after the fall of the Soviet Union, got only 39-percent of the vote as his anti-Muslim anti-immigration failed to connect with rural voters as expected. He'll face pro-Western centrist Jiri Drahos in the runoff, who might pull off an upset if enough Czechs are sick of Zeman's big mouth.
A small group of homely, racist, alt-right scum interrupted a speech by London Mayor Sadiq Khan, claiming they were going to perform a "citizen's arrest" because of his Muslim religion. The small (in more ways than one) group calling itself "Pendragon's Dongle" or something stupid like that was upset because White House infestation Donald Trump cancelled his planned UK visit over fears of widespread protests, a move that Khan celebrated on social media. After the morons were swept away like dried up dog poop, Mayor Khan drolly delivered the coup de grace: "It is a pleasure to be here even though we were distracted by the actions of what some would call very stable geniuses," he said, referring to last week's Trump tweet in which the orange clown referred to himself as a "very stable genius".