World News Briefs For Sunday, 8 July 2018
Hello Australia!! - North Korea against signals the nuclear deal was a sham - Thousands of Chicagoans protest against guns and make the governor look like a fool - The Thailand cave rescues could begin very soon - And more in your CareerSpot Global News Briefs:
North Korea says the US is using "gangster tactics" in trying to get it to denuclearize, and described the latest round of high-level talks with US Secretary of State Mike Pompeo as "extremely troubling". Pompeo had earlier claimed that "progress"had been made in his two-day visit to Pyongyang. This also flies in the face of the orange clown Donald Trump's claims that he somehow solved the nuclear crisis on the Korean peninsula. Pompeo on Sunday will meet the foreign ministers of Japan and South Korea in Tokyo to brief them on the situation. Earlier, US intelligence agencies admitted that Pyongyang was beefing up its nuclear weapons program after the Trump summit, instead of winding it down.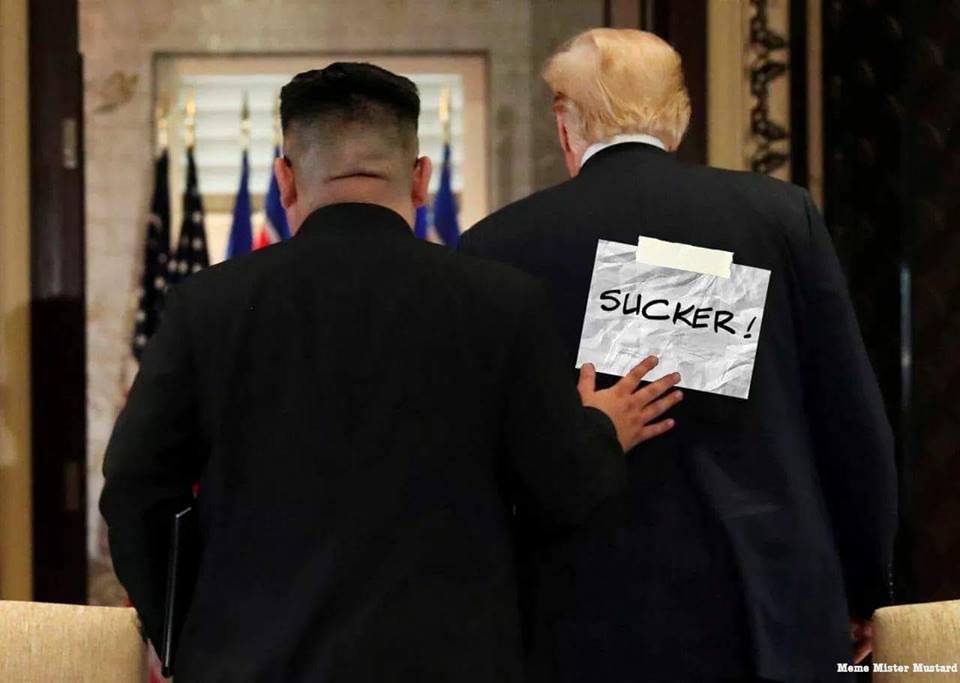 At least 50 people are dead and more than 50 are missing after torrential rains caused flooding and landslides in western Japan. The majority of the trouble is in Hiroshima prefecture, but deaths and damage are reported from Kyoto and Osaka all the way southwest to Shikoku and Kyushu. The Japan Meteorological Agency had issued emergency warnings about the potential for severe flooding and landslides, and at one point evacuation orders had been issued to 4.75 million people. Before Global Warming, this sort of flooding in Japan only occurred once every 50 years, but Hiroshima's last round was in August 2014, when 77 people died.
With bad weather bearing down, Thai rescue teams say they could be ready to start bringing out the twelve boys and their soccer coach from a flooded cave very soon. Heavy rain began falling on Saturday night, pressuring divers to launch the evacuation sooner rather than later.
At least one person was gored very near the bum and four others were injured in the opening day of the Festival of San Fermin in Pamplona, Spain. The nine-day fiesta where the bulls are run down a narrow path with drunken revelers was made popular by the American novelist Ernest Hemingway way, way back when it was still cool to be unnecessarily cruel to animals. In recent years, it has been condemned for the treatment of the bulls, and this year is especially controversial because of a judge's decision to release several men on recognizance after they were charged in a gang rape at last year's ludicrous display of toxic masculinity.
The Islamic extremist group al-Shabaab has claimed responsibility for an attack in an attack on Somalia's interior ministry. State forces killed the three terrorists after two hour gun battle in Mogadishu.
And now..
In the great city of Chicago, thousands of marchers shut down a major interstate highway to protest the rampant gun violence that has been plaguing the city. Led by activist Roman Catholic priest Fr. Michael Pfleger, veteran civil rights movement leader rev. Jesse Jackson, and Chicago police Superintendent Eddie Johnson, they called on lawmakers in Springfield, Illinois to pass meaningful state-wide gun control laws. They also want officials to address the roots of urban violence, which they trace back to economic inequality and poor schools (US schools are funded by local property taxes, so poor areas are guaranteed underfunded, decrepit schools while wealthy areas get schools with all of the mod-cons).
The protest served as a playing field in a political dust-up in which doofus republican Governor Bruce "Ruiner" Rauner came out on the losing side. Rauner pulled a Trump, and claimed that the marchers would only march on the side of the highway, allowing traffic to pass. Father Pfleger quickly called that out, tweeting, "LIE," in all caps. It served to provoke the protesters to take over the highway. Illinois State Police threatened to arrest the protesters, but that was an empty threat considering that Chicago's top cop was among them. Later in the day, Rauner called the shutdown "unacceptable" and blamed Chicago's Demcoratic Mayor Rahm Emmanuel, who backed the march. Rahm retorted, "It was a peaceful protest. Delete your account."