World News Briefs For Sunday, 10 June 2018
Hello Australia!! - A sweaty, rambling Trump exits the G7 early, backstabbing US allies in the process - Angela Merkel really can't stand Trump - Russia won't be allowed to forget MH17 - And more in your CareerSpot Global News Briefs:
White House aides feared that the orange clown Donald Trump would act like a great, big jackass at the G7 Summit in Canada, and sure enough Trump was the turd in the punch bowl. And if you want to know how the other leaders felt dealing with Trump's schizophrenic suggestions, simultaneously threatening his allies with higher duties while calling for free trade with no tariffs, just take a look at German Chancellor Angela Merkel: She's clearly trying to talk some sense while the clown is defensively crossing his arms and staring off, unable to make eye contact.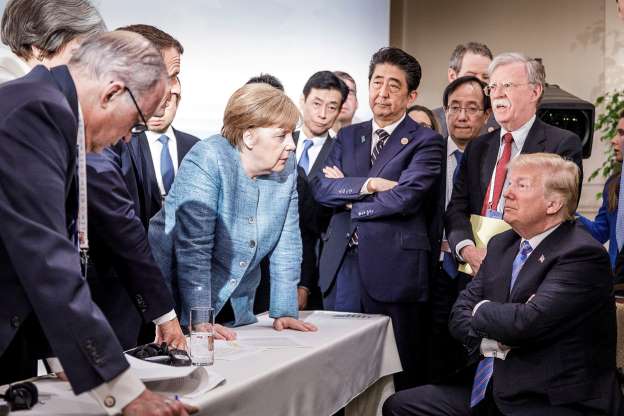 Does that look like a trade negotiation, as claimed on her Instagram account, or an intervention with a substance-abuser?
Trump showed up late to the G7 breakfast meeting on gender equality; he blundered into the room after Canadian Prime Minister Justin Trudeau opened the presentation and Isabelle Hudon, the Canadian ambassador to France, was addressing the group. Check out Ms. Merkel staring daggers across IMF boss Christine LeGarde right after the clown sat down:

After presumably ignoring everything at the gender equality breakfast, Trump skipped out on the G7 discussions of Global warming and the state of the oceans. Instead, he held a bizarre solo news conference in which he rambled in a lowered tone of voice and sweated profusely. He threatened US allies by demanding they dramatically reduce trade barriers, adding that if they did not, they could lose access to American markets.
But Trump saved his best cowardice for after the event, waiting until he was safely aboard Air Force one jetting towards Singapore for the 12 June summit with North Korea's Kim Jong-un. The clown via Twitter accused Canadian PM Trudeau of making "false statements" and of being "very dishonest and weak", and then backstabbed Trudeau by instructing US reps lingering at the summit not to sign the final communique - which Trudeau had already announced all participants had agreed upon. Trump was reportedly angered that Trudeau had responded to his trade threats by saying that Canada wouldn't be "pushed around" in trade negotiations.
Anyway..
Relatives of the people killed in the downing of Malaysian Airlines Flight MH17 placed 298 empty chairs outside the Russian embassy in The Hague. Dutch investigators recently concluded that the missile that shot down the crowded passenger plane over eastern Ukraine came from a Russian military unit. Flight MH17 was en route from Amsterdam to Kuala Lumpur on 17 July 2014 when it was hit, killing all 298 people on board including 27 Australians, which several sources expanded to 38 when passengers with close ties to Australia are included.
Police in Japan arrested a man for stabbing another to death on the Bullet Train, and injuring two women during a late-night run from Tokyo to Osaka. Ichiro Kojima told investigators after his rampage on random passengers that he just wanted to kill someone and he didn't care who.
The Vatican announced a senior official will face trial this month on child porn charges. Monsignor Carlo Alberto Capella was a diplomat assigned to Washington, DC, but US officials alerted the Vatican that one of its people may have violated child pornography laws. The US had wanted diplomatic immunity waived so Capella could face trial there, but the Vatican refused and sent him back to the home office.